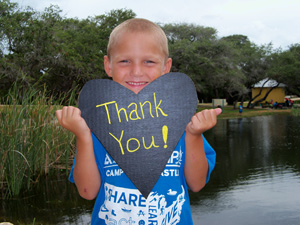 Your gifts, both large and small, will help us to achieve our mission of helping children and adults with chronic illnesses and special needs. Your generous support allows us to make a difference in the lives of thousands of campers and their families each year.
By mail:
Camp Aranzazu's Houston Business Office
(temporary mailing address)
8945 Long Point Rd., Suite 200
Houston, TX 77055
Make checks payable to Camp Aranzazu
To make a donation online click the link below.
On behalf of and the children and adults with special needs served by Camp Aranzazu in Rockport, Texas, we'd like to thank you in advance for your generous support. We couldn't do what we do without you.