2017 Camp Aranzazu Clays Classic – Holiday Bells & Shells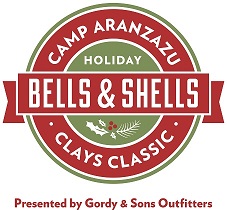 Co-Chairs:
Jennifer and Fields Alexander
Katie and AJ Brass
Stephanie and Ernie Cockrell
Join us Tuesday, December 12, 2017, at the Greater Houston Gun Club for the inaugural Camp Aranzazu Clays Classic – Holiday Bells and Shells. It will be a fun way to celebrate the holidays and support children and adults with special needs and chronic illnesses. The event will include lunch, an afternoon of shooting and various shooting games, followed by a cocktail reception.
We hope you will consider being a part of this exciting day by purchasing a team(s) or becoming an underwriter.
If you would like to donate a live or silent auction item, or for more information about the event, contact Jennifer Fernelius at jfernelius@camparanzazu.org or 713-705-9718.
We hope you will join us!
For directions to the Greater Houston Gun Club click here.
---
Thank You to Our Sponsors
Gifts of Independence
Cockrell Family Fund
Gordy & Sons Outfitters
Gifts of Self-Esteem
Rothland Commercial Real Estate LLC
Gifts of Self-Confidence
Jennifer and Fields Alexander
Elizabeth and Daryl Allen
Amegy
Avalon Advisors, LLC         
Slack & Co. Contracting, Inc.
Prissy and John Watson
Gifts of Hope
Baker Botts LLP
DIFFCO
Frost
Benefit Concepts-Al Pratka
Republic Ranches, LLC
Gifts of Encouragement
Gordon Arnold/Kent Hixson/Kemp Jones/Jack Kins
Ashton Sawing & Drilling
Kim and John Bonner
Chamberlin Roofing & Waterproofing
The First State Bank
Tom Fish
Holly and Tom Forney/Forney Construction
Rick Harmon/Robert Harris
Katherine and Bobby Hatcher
TE Reilly
Culver Stedman
Strickland Family Foundation
YetterColeman LLP
Lunch Underwriter—Anonymous
Beverage Underwriter—Anonymous
Cocktail Reception Underwriter —Beck Redden
Donors
Kimball and David Moriniere
Petrello Family Foundation
North Course Underwriter
Frost
Station Sign Underwriter
Killum Pest Control, Inc.
Meredith Flaherty Photography
Republic Ranches, LLC